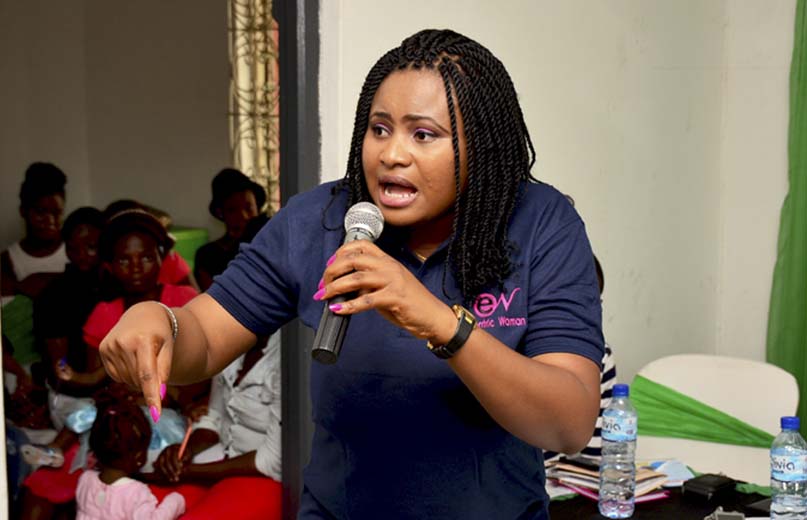 This message is for us single ladies, and please, the men are free to share with their sisters, female friends etc…
Ladies there are some bad habits we need can't be caught with, it is very imperative that we as women behave and act like responsible ladies everywhere and anywhere. Below are some habits that I feel ladies should watch and discipline themselves over consciously…
Please, stop spending most of your weekends in club houses and pubs, the kind of men you will meet there are those that are either married and looking for flings (one night stand), or cheap women to satisfy their sexual urge…90% of them will never take you seriously or get committed. Apart from the men issue, it's a complete act of irresponsibility…if our mothers were party dogs; I wonder what this world would have become today.
Stop drinking beer in public places, please! Some ladies, even married women compete with men in beer parlors…drinking like a fish! It's extremely unacceptable, I know you will say it's your life that it's not my business, well, I have said it anyway.  Trust me; no man even your grandfather will respect a woman who sits down to drink Star beer, Gulder, Harp, Small or big stout, etc. in a pub. It's disgusting.
It's not swag, neither is it class that you demand a huge sum of money from your boyfriends and or fiancé even your fathers, and spend it on clothes, shoes, bags, and hair.  Shows how materialistic you are and how you can't manage your home during rainy days (cos not all of us will eventually marry a very rich man)…"I know some of you will say it's beef, but I'm happy those of you who know me, know I can afford all these things without stress." It's just the truth, forget about what is trending and look into the future; what kind of generation do you want to raise? Because every child that comes into the world through you is a generation.
Living alone as a single lady is not a crime, as long as you have a source of income, don't let anyone lie to you that it's an irresponsible thing to do.  It's irresponsible only when you are jobless and allow a man to come live with you in that apartment or spend the night in your apartment. It's wrong, and bad, this is Nigeria, not Europe or America.
Don't ever allow any man to become your sole responsibility, I know some of you who are of age and without a husband will be desperate for one and as such, may start camping a man in your house, feeding and clothing him…it's extremely unacceptable, please, if you will just be a little patient, that man that will love you the way you are even if you are wrinkled, will come. The truth is, these guys know deep down in their hearts that they will never marry you, but because of what they are benefitting from you, they won't want to leave and they will keep lying to you and professing fake undying love.
Always look decent and not too expensively dressed, learn how to be an ardent listener, and also don't be too loud in public. Have a commanding presence and charisma…let everyone around any environment you step into, feel an aura of decency around you.
Stop applying too much makeup on your face, or even makeovers on your body, 90% of men hate artificial ladies, but most of them will never tell you, instead they will talk about it with friends and thank GOD for facebook and other social media platform these days, they will put it up there and you won't know they are referring to you…what you don't understand is that, no matter how ugly a woman is, there is always the right man for her out there.
This is very important, please, be intelligent and smart, study and be vastly read, be learned, trust me, no man wants a dunce for a spouse in this our century…even before now, our mothers were smart, creative and intelligent in their own ways, not to mention now that learning has been made easy for us and we are even more civilized (thank GOD for technology).  If all you know and discuss with your man and friends around you is sex, fashion and men, no matter how pretty you are, then be sure to have a boring life with your spouse, except off course if the guy is as dull as you are, if not, trust me, being dull and dumb is a huge turnoff for almost every man.
Learn how to cook, don't let no one deceive you, even in Europe and America, so many men prefers to eat homemade food not junks from eateries and local bukas.  That your mum didn't teach you how to cook is not an excuse, thank GOD for Google and youtube, go there and learn how to cook, if you can't use both, look for someone to teach you…stop carrying long artificial nails about, it's not a criteria of being an ajebota, to most people, it makes you appear irresponsible, lazy and undomesticated.
I know no one is perfect and we all have our flaws, but please, we can be better! Women have a very important role to play in this society of ours, let's be positively useful, please!